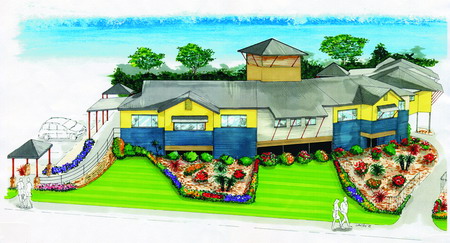 ·
PROPOSED ARTISTS IMPRESSION OF CHILD CARE CENTRE
Lanyon Design Web Site
Darryl Lanyon, the Principal of the Lanyon Design Company Pty. Ltd., proudly creates all his drawings BY HAND. You can call on his talents and skills for your intellectual property drawings. Most work through his office today is in the patent field, which he has specialized in since the mid 1980's.
NO computers are used for any of his drawings. That's right! They are all 100% hand drawn. Since the early 1970's Darryl has channeled all his practical experience into 1000's of patent and engineering drawings, illustrations and artwork.
The Lanyon Design Company employs only Darryl Lanyon. In other words, your project will be dealt with by the person who actually does your drawings. No middlemen, no staff and no confusion or delays from poor communication. You will instruct the draftsperson/illustrator direct.
Distance has not inhibited drafting by the Lanyon Design Company. Several clients reside in other cities, states and countries. The use of the fax machine, internet and emails has increased communication. Drawings have been supplied to Patent Attorneys in the USA, Europe, New Zealand, China, Singapore, Sydney, Canberra and Melbourne. His local clients include over 30 of Brisbane's leading Patent Attorneys and 1000's of Queensland inventors.
Please make contact Darryl Lanyon for pricing and delivery.